Nissan Electric Vehicles Near Phoenix, AZ

Find a New Nissan EV at Avondale Nissan Near Scottsdale, AZ
Gas prices aren't always reliable, which can make it hard to own a conventional model. If you're looking for a more efficient way to get around town, you'll want to take a look at the stunning electric models at Avondale Nissan. These vehicles are packed with ground-breaking technology, and with a battery on board, you won't have to worry about constantly visiting the gas station.
---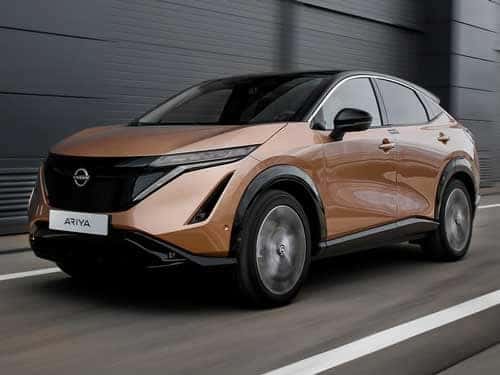 The Nissan ARIYA
If you're new to the world of electric models, you'll want to familiarize yourself with the ARIYA. If you've never driven a vehicle powered by a battery alone, then you might be worried about horsepower. The ARIYA easily keeps up with other vehicles on the road, as it boasts a zero to sixty time of 4.8 seconds and up to 389 horsepower depending on your trim. You can also equip this model with e-4ORCE All-Wheel Drive technology for added capability. Once you make your way inside your cabin, you'll be greeted with two massive 12.3-inch displays, which can show you the weather, your current speed, and more. If you're after a mix of luxury and utility, you'll want to take the time to test drive the ARIYA. If you are interested in taking a test drive of a new Nissan ARIYA, you can visit us at our Nissan dealership near Scottsdale, AZ.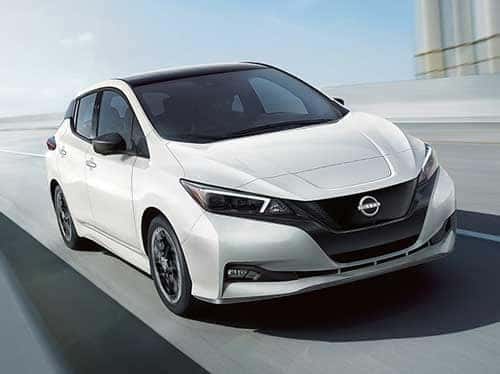 The Nissan LEAF
The Nissan LEAF might be the perfect model for daily driving, as it comes with a range of up to 212 miles and an assortment of features that will make your life easier when you're behind the wheel. When you equip the LEAF with ProPILOT Assist, you can count on this model to keep you in your lane while also monitoring the traffic ahead. If traffic stops, then so will you, so you can relax when you're making your way home. The LEAF also comes with standard Safety Shield 360, so you'll be equipped with an assortment of smart systems that will watch out for you as you drive. As for your interior, you can add available features like Heated Front Seats, an Auto-Dimming Rearview Mirror, and even a Leather-Wrapped Heated Steering Wheel.
---
What Your Electric Nissan Model Can Do for You
When you compare electric models to regular ones, you'll find that they come with some pretty nifty benefits. If you want to try out the ARIYA or the LEAF, and you're near Avondale, Phoenix, or Scottsdale, you'll want to stop by Avondale Nissan, where we have plenty of new Nissan models for sale.
Charge Up at Home: Instead of making your way to the gas station early in the morning, you can simply set your model to charge at your own house overnight. You'll wake up with a full range.
Less Routine Maintenance: With an electric model, you won't need to maintain things like your oil, spark plugs, oil filter, and more.
No Emissions: When you drive an electric model, you won't have to worry about putting toxic fumes into the atmosphere, as you won't have any emissions.
Incredible Acceleration: Electric vehicles tend to have great acceleration, with models like the ARIYA being no exception.
A Quiet Interior: Engines can be incredibly loud, especially if you drive something like a truck. Electric models offer a more quiet and relaxing driving experience.
---
New Nissan Electric Vehicles for Sale in Avondale, AZ